The Phantom may look like a monster truck but it has been bred for sim racing. Completely powder coated in beautiful and resistant black, don't let its great looks fool you. It can handle the most intense gear attached to it and is adjustable to meet your happy place.



9.5mm high grade aluminum plates secure the wheel mount to the frame. They tilt, angle, move forward and back. You wont have to sacrifice flex to adjust your wheel as you like.

We secured the wheel uprights with aluminum gussets instead of the traditional sandwich plate. This allows us to have 8 bolts that connect onto the frame instead of 4.

Typically, frames are not closed off in the front in order to save money and space. Certain instances (such as adding a motion actuator system to the rig) would benefit from a front profile. We added this as option.

---
Install using the center pivot point to rotate the pedals or free mount any way you choose. With a minimum of 2 bolts attached, your pedals will be rock solid.
---
Base Plate & Sim Feet Option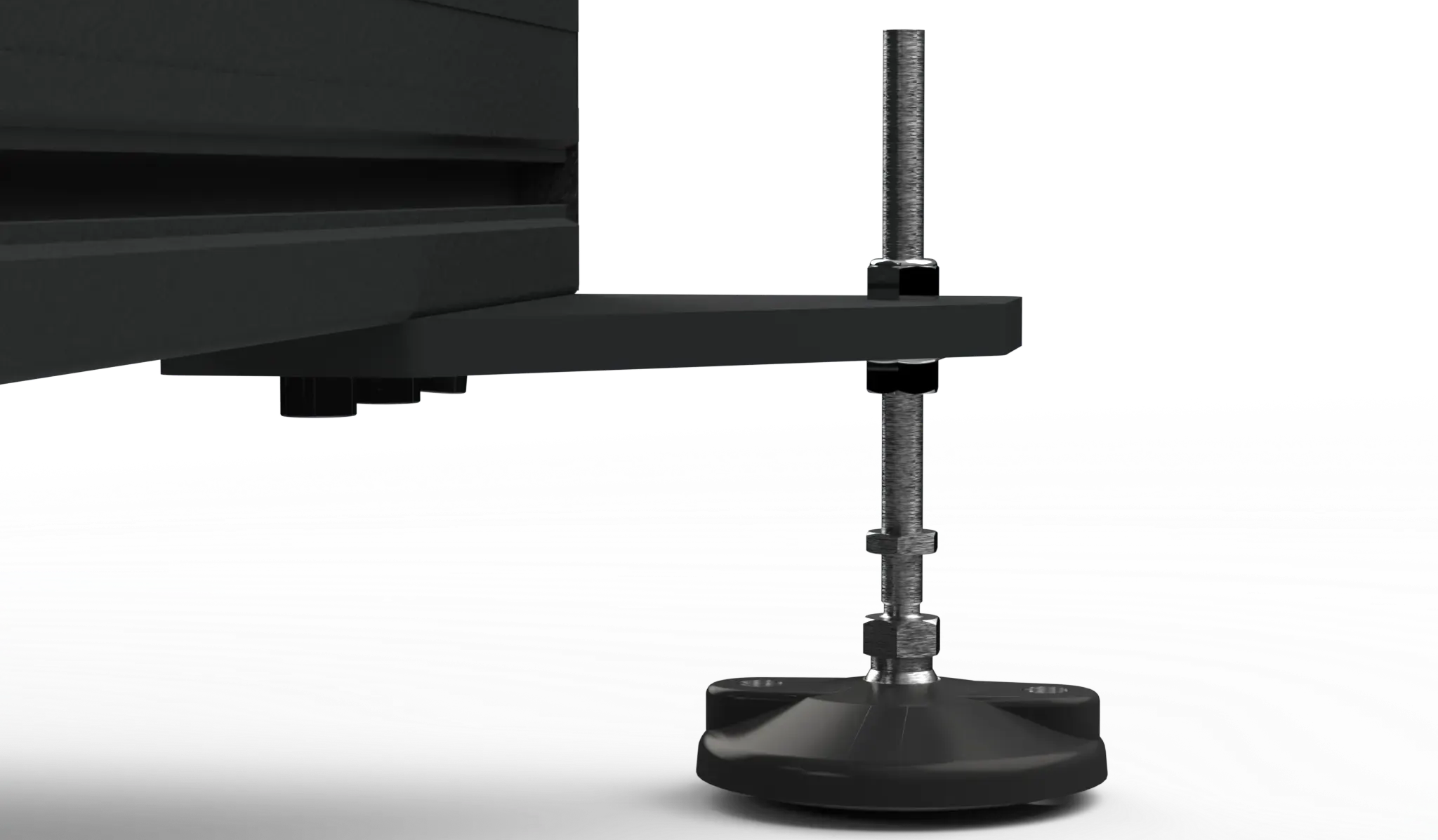 Optional Base Plates & Sim Feet
high grade aluminum 6061 for strength and powder coated in black for beauty and resistance.

that effortlessly attach to the frame using high quality M8 bolts.

with 100mm rod giving the rig further adjustability in terms of frame height and levelling capabilities.

---
Fabricated from 100% high grade Aluminum 6061, your wheel will sit flush and solid.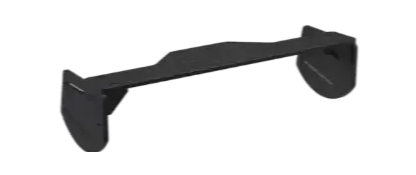 Logitech G25, G27, G29, G920, G923
Thrustmaster TX,T300, T500, T-GT,
TS-P, TS-XW

Fanatec DD1, DD2,CSL-DD, GT-Pro
Fanatec Clubsport (all)
Fanatec CSL Elite
Accuforce V1/V2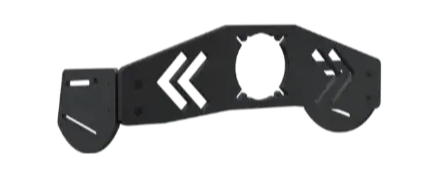 All Simucube 1, 2, Sport, Pro & Ultimate
SimMagic M10, SimMagic Alpha, SimMagic Mini

VRS Direct Force Pro
MiGe 130st
Lenze MCS12
BondarFanatec Clubsport


Fanatec Podium DD1
Fanatec Podium DD2

Fanatec Podium DD1
Fanatec Podium DD2


---
---
If you don't see an option to mount your gear, please ask. We will make it for you!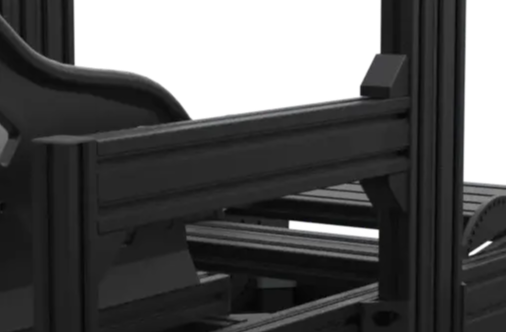 585mm (23.3in) long 45X90mm profile
360mm (14.2in) high 45x45mm profile
Can easily be raised or lowered.
Can be mounted on the right or left side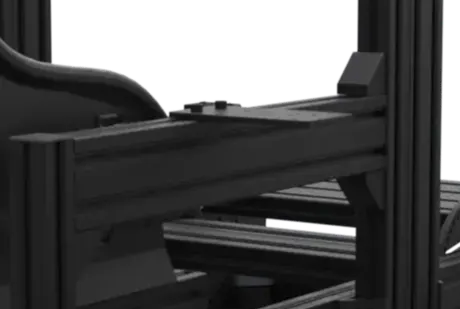 Includes Side Mount and adds:

Shifter Mount Plate;
Compatible with: Logitech, Thrustmaster, Fanatec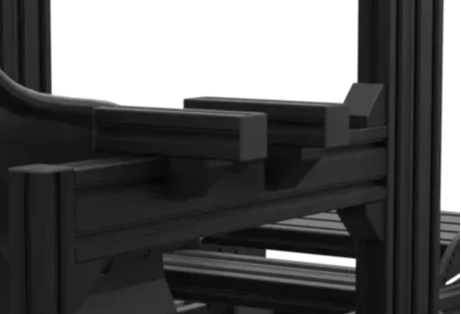 Includes Side Mount and adds:

2 x 180mm (7in) crossbars secured by 4 corner brackets on the 45x90 long profile


---

Phantom Edition Package Contents


Frame Length:
50 inch long 1.5x6in Aluminum Profile x 2
Wheel Uprights:
32 inch tall 1.5x4.5in Aluminum Profile x 2
Cross Beams:
20 inch wide 1.5x6in Aluminum Profile x 2
Seat Rails:
19 inch long 1.5x1.5 Aluminum Profile x 2
1.5x1.5 inch Corner Brackets x 24
M8 Steel Bolts (class 12.9)
M8 Spring Loaded Drop in T-Nuts

Choice of Wheel Mount
9.5mm Side Wheel Mount Adjustable Connector Plates x 2
M8 Steel Bolts (class 12.9)
M8 Spring Loaded Drop in T-Nuts


Pedal Plate 360 x 2
19in 1.5x6in Aluminum Profile
19in 1.3x3in Aluminum Profile
M8 Steel Bolts (class 12.9)
M8 Spring Loaded Drop in T-Nuts


Extra T-Nuts x 10
Extra M8 Bolts x 10
Velcro Tie Wraps x 10
5mm Allen Key
6mm Allen Key
Mount My Gear Kit


Premium Packaging & Service

All parts identified and separated by assembly
Welcome package with detailed step by step instructions
Full set-up support throughout the assembly process
"Connect Your Gear" All bolts and Nuts to attach your wheel, pedals, shifter


3 hole 9.5mm (3/8in)thick baseplates x 4
100mm high Levelling feet x 4
80mm Scratch Resistant Rubber Base x 4
Flanged Head M12 Steel Nuts x 8
M8 Steel Bolts (Class 12.9)
M8 Spring Loaded Drop in T-Nuts


23 in (580mm) long 1.5 X 3 inch profile
14 in (360mm) high 1.5 x 1. 5 inch profile support for height adjustment
1.5x1.5 Corner Brackets x 5
M8 Steel Bolts (Class 12.9)
8 Spring Loaded Drop in T-Nuts
As Ordered (+$);
Shifter Plate / Deluxe Kit

Phantom Edition Dimensions
Length: 1270mm / 50 inches
Width: 660mm / 26 inches
Height 810mmmm / 32 inches
Optional Sim Feet adds 100mm (4.4 inches) to the height
and 90mm (3.35inches) to the width